Roaring Twilight is here!
Download the digital copy to try for

free

on the Shop page! Of course, if you enjoy Roaring Twilight, please do buy it! Only by your support can we continue to produce fun stuff for you!

Join us for the

official weekly session

! Check out the

News

page for more information!

The only supernatural RPG system set in a world of the endless Roaring Twenties has arrived! Full of fun and adventure, suspense and horror, magic and mayhem, Roaring Twilight will take you from the inscrutable country to the dizzying city.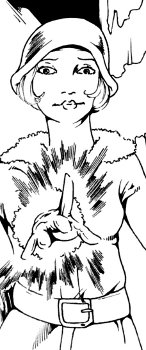 Create your character and choose to be a human, a Vampire, an Angel, a Demon, a Devil, a Naga, a Faery, a Shapeshifter, or use the flexible system to determine your own unique race! Handy and easy-to-understand text enables you to get right to the fun, with additional sections specifically for the game master.

If you're tired of too many stats and numbers that all run together or don't mean anything,

Roaring Twilight

's system avoids all of that in favor of a simple, efficient, and elegant system. After all, the name of the game is roleplaying!